Drive Mad
Players in the thrilling 3D driving game Drive Mad must navigate a course lined with challenging hazards. The objective of Drive Mad is extremely difficult since players must operate a truck at high speed on an insane course while attempting to dodge obstacles along the route without tipping the truck over. This game's spectacular stunts and inventive obstacles will test your control skills. If players wish to cross the finish line unharmed, they must maintain a balanced speed.
You will initially find it simple to navigate the obstacles with your truck's enormous wheels. But as time goes on, you'll need to exercise caution because it will also quickly flip your car upside down. The flip can shatter your vehicle and you can no longer drive it. The game allows players to drive a different vehicle in each level so that they don't get bored from using the same truck over and over for 100 levels. Complete all the levels and become the first to reach the finish line!
The entertaining game Drive Mad, commonly known as Fancade, will put each player's patience to the limit. It is one of the intriguing items built by Martin Magni, a superb game designer well-known for his catchphrase: "A nerdy boy once created video games. He matured and tried to do "essential" things. Now that's failed, he creates additional games! ". There are more than 100 games and challenges to choose from on Google Play and Quest, including Drive Mad. Despite being based on Drive Classic initially, this game now features 100 levels (which only has 15 levels). Drive Mad is an attractive game for all ages. It is friendly to most platforms, so players can play on computers and mobile devices such as phones or tablets.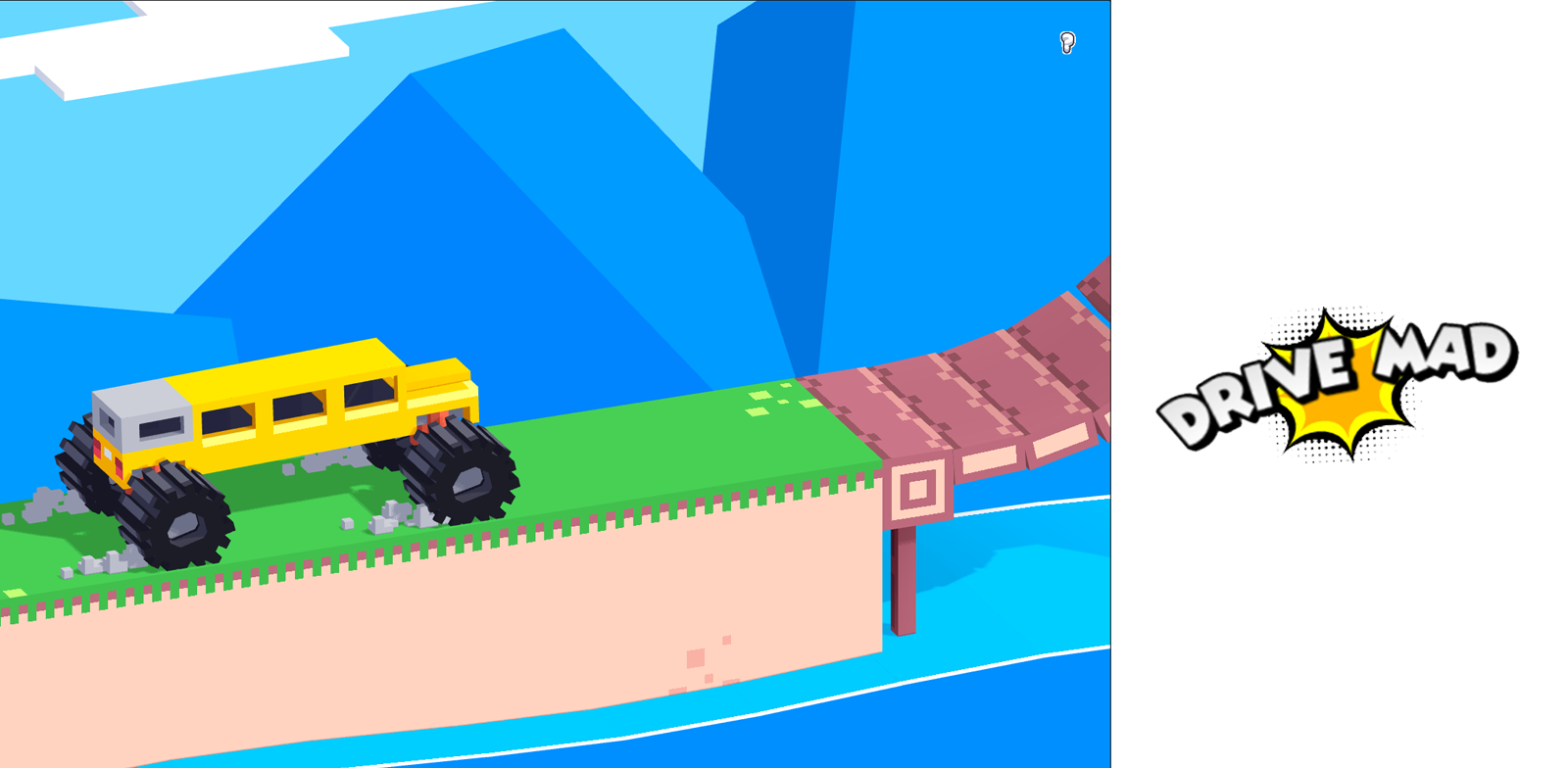 How To Play Drive Mad
Drive Mad has a very simple game control, but you must pay close attention to the track if you don't want the truck to flip upside down. Be careful!
Steer forward by pressing W, D, X or Up arrow, Right arrow, or Mouse click.
Steer backward by pressing the Left arrow, S, A, Z, and Down arrow.
Always remember that your vehicle will break once it is flipped and you can no longer drive it.
Tips and Tricks to master the game
Players have new tasks for each level, such as crashing through the brick wall by hitting it, jumping over the water, using bridges to safely cross, etc.
Depending on the requirements of the level, the size and shape of the vehicle you drive will change.
To move back and forth more smoothly, you may need to keep your truck very steady at times. So the best way to be the winner is to find out the driving method that allows you to manage the truck's balance and speed. Try not to repeat the same mistake!
Drive Mad can drive you crazy at some levels, you might have to replay repeatedly. To avoid that, here are some tips for you:
Level 39 - Runway: You might want to find a way to extend the runway to make the flight. Keep in mind that the airplane has no brake or reverse. Do you know how to do that?

Level 43 - Excavator: Use the excavator's arm to move forward. At the end of this level, touch the goal by extending the excavator's arm, and don't forget to use the bucket.

Level 45 - Drive Level: To be able to make the jump to the goal, you need to drive at full speed for 3 seconds and then fully reverse. The truck's momentum will do the magic and help you pass the jump.
Who created Drive Mad?
Drive Mad is created and developed by Martin Magni from Fancade.

Martin Magni games do not collect any personal information from you or your device.

Two services that collect anonymous data that helps you improve the games:

Crashlytics (developed by Twitter) detects when my game crashes and sends me anonymous data that can help me fix the bug. Read more about their privacy policy.

Flurry (developed by Yahoo) collects anonymous statistics, such as how many players the game has and how many players have completed the levels. Read more about their privacy policy.
Related Games
Driving video games allow users to practice their driving skills while simulating a wild race. They will feel as though they are driving quickly down a racetrack or simply along a road to deliver items while they are seated in a car. Typically, racing cars are the focus of the majority of popular driving games. But don't worry, there are plenty of simulator games with open worlds and stunt driving waiting for you if you want to test out more fantastic games. If Drive Mad isn't enough to satisfy your crazy driving skills and you are looking for more fun racing games, here are some of the current favorites: Madalin Stunt Cars 2, Two Punk Racing, Highway Racer 3D, Moto Road Rash 3D, etc.
1, Madalin Stunt Cars 2
Madalin Stunt Cars 2: Second part! Enjoy up to 18 mind-blowing cars and three maps in this fantastic multiplayer driving game. Jump, perform fantastic acrobatics, and feel the speed in your skin! Participate in mortal car races in Madalin Stunt Cars 2, one of the most popular crazy-driving games available online now! This game is really a new challenge for you.
Drive a powerful racing car and be ready for furious races with worthy opponents! The gameplay is full of simulation, allowing players to control the car, drift and feel the speed on open roads. You can drift around the city or death corners, explore the landscapes, and visit many other interesting places. Pick one of the intriguing supercars and begin performing impossible stunts through loops and obstacles! Challenge your friends in multiplayer mode!
2, Two Punk Racing
The peculiarity of the browser toy is the road, which is handed in the air. It forces you to make unbelievable turns. And even fly sometimes when the track lacks some sections! Imagine yourself as a driver from the future. Drive surrounded by skyscrapers. Avoid falling. And keep your eyes open, no matter how scary it gets!
Discuss Drive Mad